BLYTHMOOR HARRIERS
I started in hounds with a couple of delightful Beagles several years ago. After several years of showing Labrador Retrievers, my love of hounds eventually brought me to Harriers, which I have now had since 2006. I also have a very nice Beagle, who is my tracking buddy.

The Harriers are delightful dogs and make great family companions. They are friendly with all other breeds and love sleeping in piles. Harriers are no more prone to run off than many other breeds. A normal fence will keep them in. Some like to dig. As with all breeds, some bark/howl a lot and some don't. I have found them very easy to live with and train -- far less chewing overall than most Labradors. They like to run, and then spend time on the couch. Overall a great family dog that is often overlooked because of the undeserved reputation of hounds. Reality is that hunting hounds are very well trained and must be willing accept direction in the field. They must also be friendly... and not prone to chase off after any scent that comes along. As with any breed, training is a must, but it isn't that difficult.
My beagle Wynfields Meriadoc The Conductor, TD TDU TDX. Maestro earned his TD as a puppy and his TDX in 2014. He is well into training for his VST.
He was one of the first 4 dogs in the country, and the first Beagle, to earn his Tracking Dog Urban title on Jan. 1, 2014.
HARRIERS
Wynfields When Sunny Gets Blue (Gossip)
November 14, 2011
CH Bluhills Sakura Catch Me If U Can (Wyatt) x Wynfields Moonstone (Gaea)
(CLICK HERE FOR NEWS ON Gossip's Pups born August 5,2017)
Gossip had three pups. One red/white pup is still available to a pet/performance home
Gossip joined the household in late 2016. Thanks to Becky McElroy for sending this girl my way. Gossip is incredibly easy to live with. With light showing, Gossip only needs a major to finish and has a specialty WB under her belt! She was bred to Chase - GRCH Blythmoors Chance Encounter at Shadowmere TD2 TDN, who is a lovely and sweet tempered dog that is taking the show ring by storm and highly ranked in All Breed, Breed and Owner Handler, and is racking up the points.

*******************************************************************************************************************
CH Blythmoors Perchance to Dream (Yahtze)
April 30, 2014

Pedigree



Yahtze is back in the show ring this summer (2017) and doing well. She's earned most of her Grand points with several wins over Champions.
.
Reserve Winners Bitch at the HCA Regional specialty 2015. Finished her CH after the 2016 National Specialty. BOS two days on the 2017 National weekend, and is on her way to the GrCH status.
Yahtze is also training in tracking and seems to like urban settings.
Yahtze finished her CH, her hips are OFA clear and her eyes are clear so she took a pregnancy break! Pups born October, 2016 (see below). Her second litter is planned for this winter. Stay tuned.

Yahtze's litter sired by GrCH Hartshires Walkabout (Foster) -- Pups Born October 19, 2016.
9 boys and 1 girl. YAHTZE PUPS
Four of the pups now have CH points.
Yahtze
Foster
********************************************
Blythmoors Magic (Druid)
Foster x Yahtze litter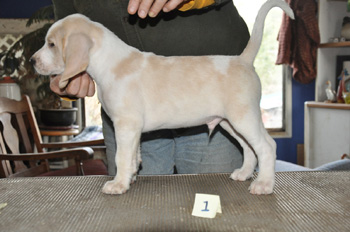 At 7 weeks and winning his first major points and BOB at 7 months
******************************************************************************************************************
CH Blythmoors Chance of a Lifetime (Monroe)
Bramble x Chance litter
This is "Monroe", as show prospect....
And Monroe winning his first Best of Breed
CH Blythmoors Chance of a Lifetime earned a Bred by Exhibitor Group TWO at the Cascade Hound Association show in 2015
and a NOHS Group ONE in 2016. He is a very sweet dog. Working on a tracking title and showing occasionally as a special. 2016 All Breed # 7, Breed #6 and Owner Handler #7 Harrier with limited showing.
Monroe is now living with Garrett Maplethorpe, who is showing him in Junior Handling. He is continuing in the breed ring and snagged some nice GrCH points by going Select Dog three times on the National Specialty weekend (2017)

Monroe had a catastrophic infection (misdiagnosed late 2016) that came to a head in early summer, 2017 (after his excellent performance at the 2017 National). He had a CT and was rushed to emergency surgery at Oregon State University Vet School and was not expected to live. He was skin and bones. His heart had stopped during surgery and they called me to see if I wanted to just let him go. But we had already made it through the surgery, so I told them to keep going. He went to ICU, on breathing support, meds for BP and Heart, IV's, etc. By morning, he was rallying. After 4 days in ICU, he amazed everyone by his rapid recovery. He came home and continued to recover. By June, he was back in weight and showed one day in Juniors at Cascade Hound. He's back with Garrett now and will continue his show career. He's my miracle dog!
Shortly after returning home. Picture does not really show how thin he was.
GrCH BLYTHMOOR'S SCHOLARLY PURSUIT, TDU TD ROM
November 28, 2010 - July 6, 2017

CH CT Hartshire Hallboy, TDX VST x GrCH Wynfields Starlight Star Bright, TD
I lost Bramble way too young to a very aggressive spleen tumor discovered on a routine pregnancy ultrasound. She was not pregnant.
Bramble earned her Register of Merit status with her litter sired by GrCH Happytails Take a Chance on Faith, TD. Six pups in that litter finished Championships -- Chase, Monroe, Emmy, Yahtze, Baron and Stella.
A lovely start to her show career, Bramble was WB both days at Cascade Hound Show, and was Bred By Group 3 on Sunday.
Reserve WB at the 2012 National. Finished her CH the following weekend with her fourth major win and a Bred By Exhibitor Group 3 -- and took another major and BOB over 2 specials the following day. 2013 Cascade Hound Show - BOB over specials both days

2013 National Specialty - Best of Opposite Sex
2014 National - did not attend
2015 National - Select Bitch (her son, Monroe was BOW and her dam was BOS
2016 National - Her son and daughter (Baron and Emmy) were WD and WB, Son Chase was Award of Merit and Best Stud Dog
2017 National - Select Bitch -- and her son, Chase was Select Dog. Her dam earned an Award of Merit from the Veterans Class


Bramble was bred to CH Happytails Take a Chance on Faith TD and had 7 pups on April 30, 2014. She was an exceptionally good mother. Once she weaned the pups, she went back to work and earned her TDU (Tracking Dog Urban) title and is working on more advanced titles. She earned her Grand Champion title and continued to do well at specialty shows. Two of her pups stayed at Blythmoor - Monroe and Yahtze. Sister Emmy (CH Blythmoor's Jump at the Chance) is showing with the Gowen's in Florida. Brother Chase (GrCH Blythmoors Chance Encounter at Shadowmere, TD2) is owned and loved by Peggy Miller, in Oregon. Brother Baron,(CH Blythmoors Sporting Chance at Briggcastle) is in California with Jill Briggs. Sister Stella (UKC CH Blythmoors Stella) finished her UKC Championship in the northeast and now has some AKC major points.


GCH Wynfield's StarLight Star Bright TD2

March 30, 2006
OFA Good, Elbow Clear. CERF

CH Kingsbury Talisman x CH Wynfield's Velvet Brown

BRIGHTY's 2010 Litter sired by CH CT Hartshire Hallboy --

Brighty finished her Championship quite easily and was rarely defeated -- with the expert help of her handler, Camille Jones.

WB for her first major at the Hound Specialty in Vancouver in September, 2006 at just 6 months of age. Also BEST PUPPY IN SHOW!

WB for her second major at the Harrier National Specialty, and BEST PUPPY, in the spring of 2007.

With limited showing as a Special, Brighty was one of the top ten Harriers in the country. She earned an Award of Merit at the 2011 Harrier National and Select Bitch at the 2013 National.


In 2014, Brighty earned her AKC Tracking title -- TD

As a veteran, Brighty continues to do well at Specialties. She was BOS in Sweeps at the 2017 National.

Here's the story of our trip to the Harrier National in San Mateo. Our very first Harrier National.

Yum, that's some good stuff on the track.

CT CH Hartshire Hallboy, TD TDX VST
(OFA Good)
May 23, 2005
(Pedigree)

Quiz finished his Championship on February 15, 2009. He got his Tracking certification the following day and earned his TD on April 12, 2009. He earned his TDX on November 11, 2012. He's showed an aptitude for variable surface and on March 15, he became the first Harrier CHAMPION TRACKER by earning his VST (Variable Surface Tracking) award. The VST is an aged track (3-5 hours) in an urban setting. Quiz ignored joggers and other dogs to follow his track and earn his title!

Quiz is retired and enjoying life in Seattle. He came down to the 2017 Harrier National to snag a Best in Sweepstakes win!

QUIZ KIDS: Here are the accomplishments of some of Quiz's offspring

QUEST -- CH Wynfield Moonstruck at Sheez-Beez (4 major wins)
GAEA - Wynfield's Moonstone is a lovely red/white that is major pointed. She was Best Bred By at the 2011 Harrier National. Sadly Gaea died in 2014 in an accident.
BRAMBLE - CH Blythmoors Scholarly Pursuit won back to back majors at the 2011 Cascade Hound Show (7 months old) and a BBE Group 3, finished her CH in 2012 with 5 majors, two BBE Group III's and a BOB. 2012 Hound show was back to back BOB over specials. FIRST Harrier to earn a Tracking Dog Urban title.




QUIZ TD pass........................................................................................................................................................................................................................QUIZ VST pass

Member of the Harrier Club of America